Get stunning software, from idea to launch
Services - We provide end-to-end software and mobile application development services. We take you from creating the concept and design, through to developing and delivering the final product that will delight your customers.
We help organizations succeed in the digital world. Our blend of software engineering expertise, with Agile software development and Design Thinking, means organizations large and small come to us with their most important initiatives.
Driving your digital transformation with passion, excellence, and commitment.
From our innovation centers we provide world-class software development, mobile development, and user experience services
Competing in the digital-first world requires new ideas and new skills.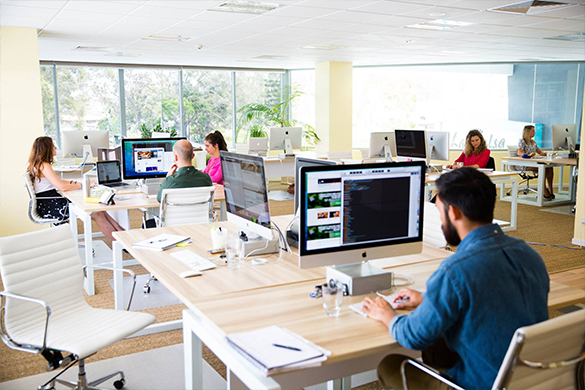 We have over 15 years of experience working with the most demanding organizations in the world.
Innovative software services on-demand.
We provide innovative software services on-demand to ensure you stay at the forefront of the technology revolution.
We combine in-depth industry expertise with world-class technical knowledge to help you create compelling software-based products.
Caring for our people and work environment - Recognized as a Great Place to Work, we heavily invest in employee training which allows our staff to be fully prepared for your next digital project.
Why Kriipton?
1




International presence

Kriipton was born in Europe, but since our inception we've always worked internationally. From our early days, we've worked with companies in the US and Europe. Our efforts focus on delivering the best software products to clients around the world. Thanks to our nearshore locations we can easily and constantly communicate with our clients. This results in high productivity with low costs. We also have 3 offices in the US, Netherlands and Macedonia. with our US headquarters located in Silicon Valley. Kriipton employees clock up significant air miles, travelling frequently, in order to ensure we offer a close, personal service to our customers wherever they may be located.

2




Nearshore Outsourcing Advantages

Nearshoring provides numerous advantages and benefits compared to traditional outsourcing models. Thanks to our locations in Argentina, Peru and Colombia, most of our clients are in very close time zones allowing them to have a much more active role than if their vendor were located in a far off location. We practice Scrum, best suited to nearshore outsourcing innovation, so you see the product as it unfolds. No surprises or missed delivery schedules. This is particularly important when working with Agile which relies on real collaboration and creativity. Kriipton's software engineers embrace collaboration with a passion for helping clients achieve that next level of innovation.

3




Project governance

Industry leading project governance provides the strongest foundation for your success. It's important to aim for the best.But having proven and tested project governance processes in place, means you're also prepared for every eventuality. .

4




Agile expertise

Agile software development provides not just the basis for your software development, but also for your digital transformation. Kriipton was an early adopter of Agile and has over 10 years of experience with various Agile methodologies in both development and testing processes. This includes Scrum, Kanban, XP, and behavior-driven development. All individualls in the company are trained in Agile, and more than 20% of employees are Certified Scrum Masters. Based on all this experience, we have optimized our project management methodology to provide the right mix of control, visibility and flexibility, while maintaining the best throughput possible

5




Flexible engagement models

Depending on your requirements, we provide the engagement model to match. Finding the right engagement model means it's easier for us to help you achieve your digital innovation agenda. Companies partner with Kriipton to achieve their innovation agendas. Whether you are looking for help with your new product development efforts or extend the features and functionality of your existing software products, Kriipton offers flexible development models and a variety of engagement approaches to address your specific needs.

6




End-to-end software and mobile application development services

We provide end-to-end software and mobile application development services. We take you from creating the concept and design, through to developing and delivering the final product that will delight your customers.

Software development
Software testing
Consultancy & innovation
UX services
Landing Pages
SEO

Creativity
Design
Social Media Marketing
Email Marketing
Podcasting
Product Launches

7




Our talent development

Our world class software engineers are ready to help you with your most critical digital technology challenges. Kriipton is proud to work with the best talent in Latin America. To help ensure your project is a success we have put in place a system of sophisticated talent development, encompassing: Extensive ongoing training, Links to top universities in Europe and Low attrition
Get Up to Speed and Keep the Momentum Going with Authority
"The archive of content means I can get information and advice on the topic I need exactly when I want it, the forums are a great place to kick ideas around, and the regular Q&A calls are invaluable – one simple suggestion I followed up on increased my rate of enquiries by over 400% with only a few hours of work!"

–IAN SHEPHERD

Production Advice


"Most of what I know about content marketing and copywriting I have learned from the team at Copyblogger. They've been hugely valuable to me, and changed my view on marketing and how to run a business. I'm grateful for their help and encouragement."

–HENNEKE DUISTERMAAT

Enchanting Marketing



"One of the things that I really like is the methodical approach to each strategy. I've implemented the ideas I've learned and received great feedback from my clients, and I encourage them to duplicate the techniques for their businesses.
 These are solid action plans that work for the long run.
 Thank you for teaching content marketing strategies that work so well for small business. You all have laid the foundation, and I just had to execute the plan."

–THERESA DELGADO

theresadelgado.com


"After all the hype about being either creepy or macho to sell information, it is refreshing to have a normal person (albeit a very successful one) speak to me in plain English about solid, foundational principles for our online business. And taking that advice has made our lifestyle media company a stable, profitable venture with the kind of loyal and engaged customers we always wanted."

–BETSY TALBOT
MarriedwithLuggage.com


"Copyblogger's training introduced me to online teaching and showed me how to make it a viable business model for my company. It taught me how to take my background in graphic design and branding and translate that into real-world benefits and results for my audience: women with online businesses."

–CHRISTIE HALMICK

jewelsbranch.com


"I had big ideas but I just didn't know how to bring it all together. That's when the team at Copyblogger came in. 
I love the insights I get from listening to the seminars, and the community of mentors and fellow business owners has helped me to move through many challenges and get to where I am today."

–PAUL CUNNINGHAM

Exchange Server Pro